Today is the release day of DREAM BOY by Mary Crockett and Madelyn Rosenberg! And to celebrate it several of us are talking about our dreams.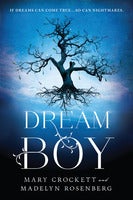 DREAM BOY  – by Mary Crockett & Madelyn Rosenberg
I've always been a dreamer. Daydreams. Night dreams. Dreams of grandeur and dreams of escape. If I were an onion and you pulled back the papery outside, you'd find layer after layer of eye-watering dreams. And in the center, where there's that little curlicue of onion heart? There'd be a puff of smoke from the dreams that burned away.
Annabelle Manning feels like she's doing time at her high school in Chilton, Virginia. She has her friends at her lunchtime table of nobodies. What she doesn't have are possibilities. Or a date for Homecoming. Things get more interesting at night, when she spends time with the boy of her dreams. But the blue-eyed boy with the fairytale smile is just that—a dream. Until the Friday afternoon he walks into her chemistry class.
One of friends suspects he's an alien. Another is pretty sure it's all one big case of déjà vu. While Annabelle doesn't know what to think, she's willing to believe that the charming Martin Zirkle may just be her dream come true. But as Annabelle discovers the truth behind dreams—where they come from and what they mean—she is forced to face a dark reality she had not expected. More than just Martin has arrived in Chilton. As Annabelle learns, if dreams can come true, so can nightmares.
Doesn't that sound like a cool story? Mary and Madelyn said we could interpret that "dream theme" any way we wanted—either literally or aspirationally. I'm going to talk about my aspirational dreams.
Of course there is always the dream to go to Bora Bora. I mean, who doesn't want that?
But lately I'm feeling like I've been living out my dreams lately with the release of GILDED. Next year, I'll be taking time off to write full time, which is a dream come true. I'm also hoping to have more time to connect with readers and friends. So I guess for me, it's to continue to live out this dream and I couldn't ask for anything more.
I'm so excited for Mary and Madelyn! This is a big day for them and I wish them and DREAM BOY a big toast and congratulations!
Don't forget to add DREAM BOY to your book wish list! It can be picked up at: